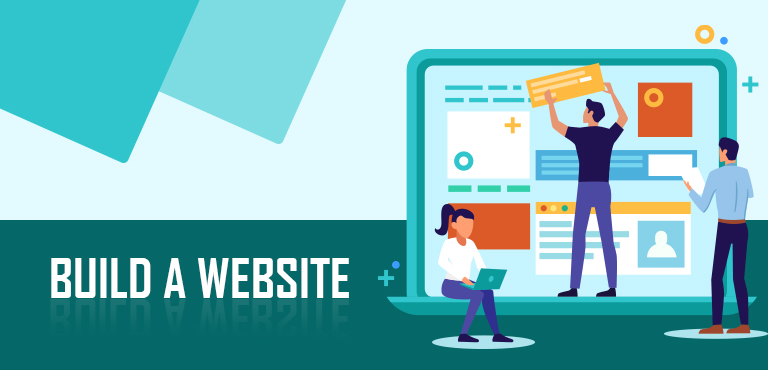 If your business has gotten far without a website, you might have wondered: do I really need to build a website for my business? What's the point of it when my business is already successful without one?
The short answer is – yes! There has never been a better or a more important time to invest in a website for your organization. A website provides a wide variety of benefits for small businesses. And just like the internet itself, most of these benefits increase in value significantly year after year.
Moreover, with so much competition around, it is important to have a robust online presence. Your decision to build a website will be the first step towards that goal. Additionally, you need to implement an optimized digital marketing strategy to achieve that. It should also include all the social media handles, mobile components, and other online channels.
Also, in today's online world, consumers expect all businesses to have an online presence irrespective of the size of the organization. Therefore, make sure that you do not fall behind and lose your potential customers.
Still not convinced? Let's list out a few more reasons why you need to have a business website for your brand.
1.Make you look more professional
Most consumers now believe that a business that owns a website is more credible than its counterparts who do not yet have a website. Your website is the ideal space to show the awards that you have received for your business.
Also, when you build a website, you get an opportunity to showcase all your professional certifications and qualifications as well. You also get a branded email address when you own a website of your own. This way, your brand will appear a lot more professional to your clients.
2.Help you attract more customers
Every business looks for ways to attract more customers and expand its reach. And launching a corporate website is a sure shot way to achieve that. Once your business website is visible on google, you can effectively drive more traffic and increase leads.
If you have a well-optimized website, then it will easily rank higher on search engine results. This way, you can easily expand your customer base and get new customers. There are several free SEO and other online marketing tools available online which can help you easily optimize your site. The best part is that to operate these websites and execute your plans, you do not need any technical knowledge or formal training.
3.Showcase all your products and services
Once you build a website, you can easily showcase all your services and products that you are planning to offer. You can describe them in detail and provide additional information about each service. This is probably an extremely effective way to convert your potential customers.
Also, the information you provide about the products will be available all the time and your customers can check them out at their leisure. So, when you build a website, you get constant marketing for your brand. This way you can attract the right set of clients, who would eventually give a boost to your business.
4.Showcase your best testimonials
People love to read reviews. Knowing that there is another person who has used your product or service and was happy about it, gives credibility to your claim. Displaying your best reviews and testimonials is a great way to attract new customers to your website.
Apart from this, your business website can also showcase your press releases or share local blogs or articles that have featured you. This gives your customers a feel of the reliability and authenticity that you offer.
5.Help customers to get in touch with you
A business website is a great place to share your contact information. This way, your potential customers can instantly get in touch with you and conduct business. The ideal way to go about is to put your basic contact info on your website's footer or header. This way, that information will be displayed on every single page of your site and your customer will not have to search hard for it.
You can make it further easy for the customer and offer a contact form or an instant chat option through which customers can get in touch with you. You need to keep these options in mind when you build a website and implement them accordingly.
6.Integration with Google maps
Customers can easily find your business if you integrate your website with Google maps. This is especially useful for local businesses as your customers can directly come to your store. You can also use an embedded map in your business website so that people do not have to spend a lot of time searching for your business.
7.Stand out from the crowd
An appealing and effective website can quickly help to establish your place in the industry. Your website is your first marketing tool and your main identity in the digital world. It will make you different from your competitors and increase your chances of getting more customers. Build a website that is user-friendly and provides all the necessary information.
8.Can be easily managed
There are several online website builders available that can help you build a website easily. With a little guidance, you can easily customize and set up your website. Additionally, you can take the help of a professional website development company to build a unique website with advanced features for you. This way you can customize it according to your needs and add features fit to your business.
Make sure that when you build a website, it is mobile-friendly and attractive and truly stands out from the competition. The ideal way to go about the whole process is to depend on a reliable team of website developers in building your business website. Once launched, you can easily take over the management of the site and keep adding the latest content.
9.Ensure success in the long run
The number of internet users is increasing all across the globe. With each passing day, more and more people rely on the internet to search for their queries and to shop. If your business does not have a website, it remains inaccessible and invisible to all these people. Therefore, if you want your business to have a widespread presence, it is essential to invest in a good business website. Also, in order to survive in this cut-throat competition, you need to stand out from the crowd and maintain a quality digital presence for success in the long run.
10.Save time and resources
It may not seem obvious, but having a website can save you a lot of time. Ideally, your sales executives need to spend a lot of time communicating with potential clients and customers. But when you build a website, you easily save a lot of time by giving out information regarding your products and services. You can also share answers to frequently asked questions through your website. This way, you can spend that saved time doing other productive things to boost your business.
Final verdict
Hopefully, by now you would have realized that the question should not be "do I need to build a website for my business", but "can I afford to not own a business in this digital world". And the answer would be a simple, no. If you wish to continue thriving in the long term then you definitely need a website. A quality website is one of the best investments any business can make for its long-term success.
If you are ready to get started, check out our recommendations for choosing the right CMS for your website or a guide on choosing a content layout. Again, the ideal way to launch a website for your small business is to rely on professional website developers to create a unique and customized business website.
Finally, if you have questions regarding launching a website for your business, ask away in the comments section below!
Related Post