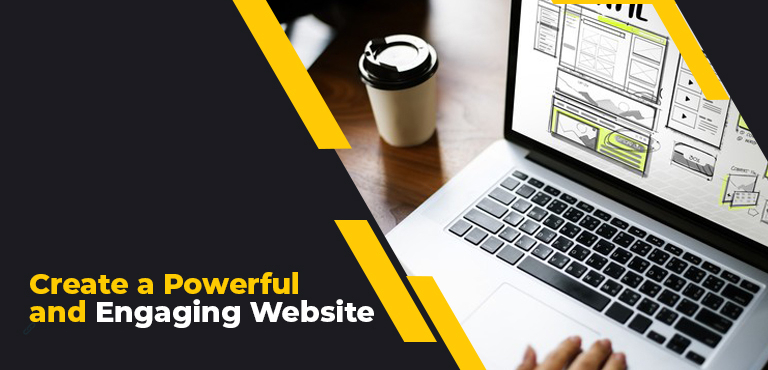 Website development services and web design plans should focus on creating a website that acts as a smart lead and income generation tool. This blog explores some proven tips and tricks to create a powerful and engaging website.
Every business needs a website. This is a pretty well-established proposition in this ultra-digital world. But getting a website just for the sake of having an online presence won't help.
Only a perfectly carved out website can reach millions of potential customers and turn them into long-term and loyal clients. Here are some result-delivering web design tips to make a website that functions equally well for businesses and customers.
Now, let's explore some handy tips to build a sharable and engaging website that draws customers.
By the way, if you are interested in knowing when to undertake a website redesign, read here. 
How to create a powerful and engaging website?
   

Apply KISS principle to web design
KISS, an acronym for 'keep it simple and straightforward', is a celebrated design principle by the U.S. Navy. The whole idea is the importance of simplicity in any system, and I strongly feel that this is applicable to web design as well.
Stick to a simple layout for your homepage. Revolve your website design around a candid concept to convey the brand message to your visitors in an unfussy style. Give a functional and clean layout so that your website loads on diverse platforms and devices.
There are many free website builders with free templates. In order to ensure what you ultimately get is a well-built site, it's better to hire an experienced website development company. Because, you may need knowledgeable hands to tweak the design to your business needs, to fix errors if something happens, etc.
2.
Try different layouts for different web pages
Consistency is a great virtue. But there is nothing wrong with trying a unique layout for different website pages to give a refreshing tweak to your website. You can mix up and modernize the layouts for each of your navigation folders.
See to it that pages dealing with the same subject should display a uniform layout. For instance, your products and services page can spot a similar layout while your blog can flaunt another layout. This will give a refreshing mood to your visitors and will help them get away with the feeling of visiting the same pages time and again.
3.
Stick to easy-to-follow navigation
Integrate easy and quick navigation features into your website. These elements should be easily spottable by your visitors. If not, they are not going to waste their time searching for it. (And this way you're helping your competitors!)
If you observe that your website visitors have a habit of spending excessive time to get relevant information, it's a sign to redesign the navigational elements. Ensure to place navigation button menus in highly visible places and follow standard design for these. Do not be tempted to play with your creativity with these features. The best policy here is simplicity and intuitiveness.
A great web design will follow a pyramid structure of hierarchy. This will help search engines to crawl through your pages effectively. Also, ensure that every page is accessible from your menu bar.
4.
Clear and concise Call To Actions (CTAs)
Making your CTAs clear and succinct is another effective way that paves the way to create a powerful and engaging website.
What's the purpose of your website? What do you want your visitors to do? Clarity on these questions will help you design an attractive CTA button and texts. CTAs play a significant role in web design as it prompts visitors to take specific actions. It could be to subscribe to your blog, sign up for your newsletter, purchase your products, or contact you.
A great web designer will see to it that CTAs stick out from the rest of the elements to grab the sufficient attention of visitors.
5.
Achieve more with less content
Stuffing your website with content is the last thing you would do to make your website engaging. Websites with a high density of text-based content drive visitors away. Add visual elements to educate and inform visitors about your service and offers. Learn to include the right combo of text and visuals to make your web design clutter-free and elegant.
Being said that do not be prompted to take away too minimalist approach on content. You need an adequate number of words to ensure the highest user engagement. Provide absorbing, sensible, informative, and actionable content that provides value to your readers' lives. 
Know your customers and their wants and needs. Place content that they look for in an eye-catching way in prominent places. Other less significant information can be linked in the footer.
6.
Embrace whitespace. They're powerful!
Whitespace is the blank space on your website pages. Though they seem like empty spaces they do a lot in making your web design engaging and alluring. These empty spaces need not be 'white' in color. It can wear any primary shades of your website design theme.
Other benefits of whitespace are: it helps readers to focus better on what is relevant, improves readability, and improves attention. It helps your visual elements to cut through the noise and help readers to discern what they want to focus on in a quick peek. Utilize white space optimally between short paragraphs.
7.
Go creative with the right hues and color combos
Make wise use of eye-catching bright colors to enhance the visual appeal of your website. Choose a shade as the foundational/primary color of your entire website design. Pick a contrasting accent color for important elements. Keep your brand identity also in mind while selecting colors.
Colors create vibrant visual experiences and hence you cannot ignore their importance in effective web design.
8.
Use easy-to-read fonts
Smart website development services and web design projects will take the choice of fonts seriously. You need to cherry-pick clean and easy-to-read typography to convey the intended message to your readers effectively. This is very important if you are resolute to create a powerful and engaging website.
The typeface also needs to be distinctive and well-balanced to facilitate the transparent reading of the text. Choose the font design that fits well with your brand personality, the type of audience you attract, and the purpose of your web design. Be it a portfolio, a blog, a web store, or a huge corporation website, the importance of font cannot be undermined.
9.
Use videos & images to make your site engaging 
Integrating catchy videos and images does a wonderful job in engaging your website visitors. The use of Scalable Vector Graphics (SVG) and images will help the insignificant level of conversions both in desktop and mobile devices.
Be careful not to make your website too heavy. This may create loading time issues. Placing videos on only key web pages is a great web design tactic.  
Incorporating videos on web pages can also bring in some SEO benefits. By using g keywords in the video title, descriptions, and tags can make an SEO difference.
10.
Make a responsive website 
Making your website design equally responsive to all types of device screens is a great tip to create a powerful and engaging website. Strengthening your digital presence should be one of your major web design goals. A web page that resizes to desktop, laptop, tablet, and smartphone screen is crucial to give a better user experience and get a good response from the people.
As most people access your business website from mobile phones, your website design should be responsive to the screens of a small phone. If the mobile experience is negative, you are driving away from a prospective and loyal customer. Here is a useful guide on how to make your website mobile-friendly.
GetMySites is a great choice to deliver a high-performance business website that follows all crucial web design practices.
11.
Confirm your visitors' actions.
Confirming your visitors' action is a great web design tip to keep them engaged throughout till the end. Your website has given the right content to the visitors and has successfully made them take a decision. But that's not the end.
If they have filled a form, purchased a product, downloaded an ebook, or subscribed to your blog/newsletter, let them get a clear confirmation about it. Use that screen to thank them. A thank you note with a prompt to share on social media is a great way to spread engagement.
12.
Finally, find a right website development company
It's crucial to collaborate with an experienced website development services provider to build a business website that draws customers. You don't need a pool of designers who straightaway jump onto picking cool and trendy shades and start laying out your homepage. You need a smart partner who examines what you want to accomplish with your website before moving onto the web design and development part.  
You are lucky enough to be reading this blog here, as you've just stumbled upon this kind of website development services company! Call us now to discuss your website development needs and business goals.
If I've missed any important points on how to create a powerful and engaging website, feel free to comment below. 
Related Post