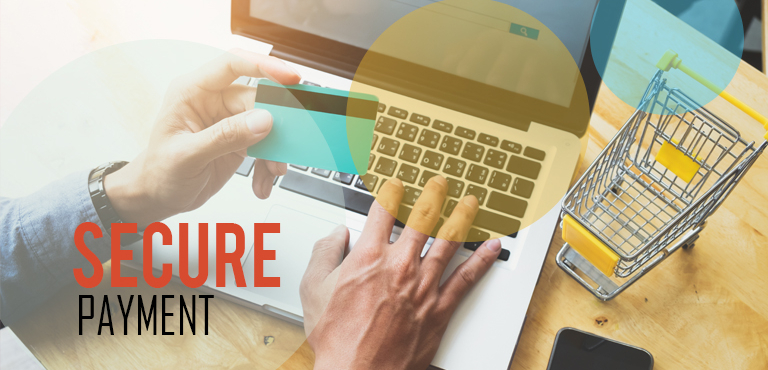 A secure eCommerce website is the foundation of a successful online business. Here are 7 secure payment tips for your eCommerce website to help you protect your online store.
Launching an online business and developing an eCommerce website can be a fun and exciting challenge. After all, the industry is growing exponentially and if you do it right, you could have a successful business in hand.
However, one thing many new entrepreneurs often overlook or even forget is the security of their website during eCommerce development. In a world where there are constant attempts to weaken and hack website security levels, it is only natural that you would want to make your site as secure as possible, especially with regards to payment.
Security of your website is not just about the transactions done on the site, but it also includes the security of your website completely.
In this article, we will provide you with 7 tips that include not just secure payment tips for your eCommerce website, but also strategies to keep your entire site safe.
So, let's get started.
Effective
secure payment tips for your eCommerce website
1.
Rely on a secure and trusted website builder
When looking for eCommerce development services, you would most likely depend on a website builder to launch your website. Apart from the fact that it is easier and more straightforward, the platform also has plenty of ready-made templates and options for customization. It also comes with enhanced security features.
When picking the right eCommerce development website builder, make sure that it offers encrypted payment gateways, an SSL certificate, and advanced authentication protocols for both buyers and sellers.
Do your research well, compare different website builders, and focus more on user testimonials and reviews, especially their security. Then once you have narrowed down on the eCommerce development services that offer what your store requires, pick the one that provides the best value for your money.
2.
Update and monitor third-party integrations
If you are an entrepreneur, most likely you will be depending on a CMS platform development service to develop your website. In that case, you will be able to download and integrate several third-party plugins, tools, and apps to enhance your site's overall functionality. There are some website builders for eCommerce development that offer these features but with fewer options.
This is a great option to customize and build your site the way you want it. You can change themes, and add additional features for your customers. But you also need to make sure that you regularly monitor and accordingly update these third-party add-ons and plugins throughout your eCommerce development. This is because there are chances that some hackers use these plugins to plant malicious code on your website.
An effective strategy is to ensure that the third-party integrations are constantly updated by the developer and make sure that it is completely optimized for your website.
3.
Get SSL security
We have already mentioned this. A website should have SSL security to remain safe. It is an important security feature because it aids in encrypting data between your website and a visitor's web browser. It should become a mandatory requirement for eCommerce development websites based on the PCI (Payment Card Industry) Data Security Standard.
SSL encryption also helps in providing authentication to make sure that your website's data is indeed sent through the right server. Also, SSL security acts as a trust symbol in the form of a green bar or a padlocked icon on the address bar of the screen when a user visits your site.
4.
Be PCI DSS Compliant
As we have mentioned above, PCI DSS is a set of requirements designed to ensure that all eCommerce websites that store, process or transmit credit card information have and maintain a secure environment. This has to be ensured by the agency that handles your eCommerce development services.
To be PCI DSS compliant, you need to fulfill 12 requirements:
     

Use and maintain firewalls

     

Have effective password protections

     

Protect cardholder data

     

Have an SSL certificate

     

Use and maintain antivirus software

     

Restrict data access from unauthorized users

     

Regularly update software

     

Create unique IDs for access

     

Use and maintain access logs

     

Document your security policies

     

Restrict physical access

     

Regularly scan and test for vulnerabilities
If your website follows these secure payment tips for your eCommerce website requirements, it will be able to identify any discrepancies made during any transactions on your website and automatically stop the process immediately. Thus, saving both your website and the customer's security.
5.
Backup website data
Even with the existence of multiple security layers, there are chances that you will face a security breach. You need to be always prepared and ready for it and often backup your website data during eCommerce development. While backing up the website data will not stop security threats, it can significantly reduce the impact they bring to your website – should you face any breach of your security protocols.
It is a safe practice to back up your site every now and then. Your agency that offers eCommerce development services should provide a website builder that comes with an automatic backup feature. Through this feature, you should be able to simply set time duration on how often you want to back up your site. The recommended strategy is that you do it every three days.
6.
Use a CDN
A CDN, or a content delivery network, is a group of geographically separated servers that work together to quickly provide web content to users globally. It helps in the quick transfer of data like HTML pages, JavaScript files, stylesheets, images, and videos.
Post your eCommerce development, you can utilize the service of a CDN to expand your customer reach to a global audience. A CDN stores several copies of the content of your website. This can help in identifying the common malware that an eCommerce website can face, like DDoS attacks. The attack refers to sending a big number of requests to your website. This delays the loading or even crashing of your website resulting in the site being non-functional.
7.
Configure a website application firewall
A web application firewall (WAF) helps in protecting web application and eCommerce development by developing a shield that monitors and filters HTTP traffic between the internet and them. It usually secures web applications from attacks like cross-site scripting (XSS), SQL injections, and cross-site forgery.
WAF works by adhering to a set of policies that aim to protect web applications by filtering out malicious traffic. You can change these policies to allow a quicker response to possible attacks.
There are several WAF tools available that can help you enhance the security of your website, such as:
     

Cloudflare WAF

     

Nginx

     

Imperva
Summing Up
Now you know the 7 secure payment tips for your eCommerce website to help you protect your online store. All that is left to do is to implement these security measures and make your website as secure as possible.
Make sure you regularly back up your website's data because no matter how secure your website is, you will never know when unexpected security breaches can happen. It is always best to be prepared for the worst-case scenario.
The ideal way to go about is to rely on an expert web development partner like Get My Sites for your eCommerce development services. Our competent team can help you launch a secure online store with customized solutions for enhanced business growth. Contact us now to talk to our experts for well-crafted tailored eCommerce solutions.
Related Post