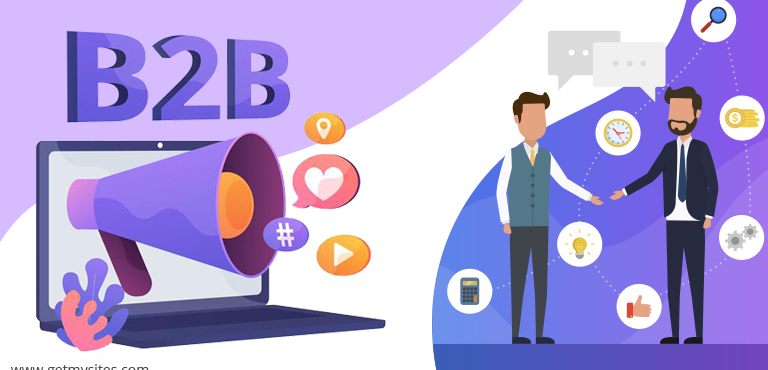 B2B website design is a different ballgame that demands your attention on some pivotal elements. This blog is exploring some key B2B website design tips.
Business websites should be visually appealing and super-functional – be it B2B (Business-to-Business) or B2C (Business-to-Consumer) websites. Being said that, are you wondering if there are any special parameters that make a B2B website design special.
As you know, a B2B company sells its products to another business which then might offer these services/products to end-users. Conversely, B2C businesses sell their products/services to the end-user directly. There is no intermediate involvement. For example, Alibaba is a B2B ecommerce company and Amazon is a B2C eCommerce company.
It means that the website visitors belong to different sets. B2B customers buy things to improve their business, while B2C customers buy for themselves, to satisfy their personal needs. 
The aim of the website should be to meet the customer needs at every stage of buyers' journey. Therefore, in both website designs, you need to place your buyers first rather than design. 
Moreover, a B2B website has a long sales cycle. As decision-makers return to your site more frequently to gather more information about your services, your website should stay vibrant and classic.
Here are some valuable B2B website design tips that stay classic in the midst of constant changes in web design trends.
9 Best B2B Website Design Practices
While design trends might change, best practices for B2B websites are generally evergreen. Follow these 9 must-have B2B website design tips for your business success.  
 

Merge brand consistency into your website design
Consistency is the most powerful factor in B2B website design. Your website design should reflect your brand. The brand is nothing but your business story and there is no stronger instrument than that to connect people to your products.
You need to start with a style guide to craft a homogenous B2B website design. The look and feel of your website should match your brand story and your business values. No matter who works on your website, and whatever additions come in the future, the style guide will ensure that everything blends well.
Every element ranging from color palettes, fonts, words, and layout characterizes your brand. Your B2B website design style guide should clearly state:
Brand's color pattern including primary color/s and accent colors. Remember that each shade has its own emotional response.

Font color

Font style

Image style
These elements should subtly announce your brand story and values. Sticking to a standardized pattern ensures that your website as a whole reflects a consistent brand image.
 

A lucid and unmissable value proposition
It's imperative to create a unique value proposition for your brand and highlight it on your B2B website design. It's nothing but a flawless statement of what is offered, how that offering makes you stand out from your competitors, and how you are delivering the promise. A crisp statement should announce it to the website visitors.
Imagine entering a website and feeling confused about what service they offer. There might be a generic mission statement that does not communicate any message. Even though they offer the exact solution to your problem, the website fails to convey it losing a prospective buyer
Have a strapline with a clear value proposition. It should clarify the ways in which your business provides a solution for the needs of your leads.
 

Adequate whitespace
Do you have a pull to cram every square inch of your website with content? Stay away from that temptation. Effective B2B website designs harness the power of whitespace. Integrating the whitespace design technique helps your business as it boosts attention spans and comprehension rates.
Whitespace is nothing but the empty space in a page. The portion of a page left unmarked or blank. Blank spaces help your website look clean and organized. The whitespace need not necessarily be white in color. It can be in any of your website color palettes, but it should be blank.
 

Easy to use the navigation
Easy-to-use and clear navigation is a critical component of B2B website design. An efficient website should lead its visitors to the right information they are looking for. They should not wander here and there and land in uncharted web territories. As you focus on making the design and layout trendy, do not forget that these glamorous aspects won't do any good if navigation is poor.
Focus on building your website to please both search engines and your prospects. Keep this as a thumb rule: "design the website navigation structure in such a way that anyone who visits your website should find what they need within 3 clicks". Remember that every struggle to find information is triggering the bounce rate of your website.
Taking into account the long sales cycle for B2B websites, poor navigation can be a real blow to your business results. Your navigation design should enable them to get as much information as possible easily.
 

Hard to resist Call To Action (CTA) buttons
You need a trigger to take any action, and your website visitors are no exception. They need some motivation to click those CTA buttons that you have integrated on the strategic locations of your B2B website. As soon as your traffic finishes checking out your website, you need to persuade them to take action. Creating stellar CTA buttons with compelling texts is the way out.
This strategy involves a convincing CTA phrase, proper positioning of the buttons, the color of the button, etc. The CTA buttons in your B2B website design must be a balance of everything that would induce visitors to take a certain action.
Refrain from placing generic CTA texts like 'Click Here. The message does not convey anything that happens after the visitor clicks the button. Make the CTA texts descriptive like 'Download your free guide' indicating what to expect.
 

Engaging visuals to capture the attention
Ensure that your B2B website design comprises visually appealing elements and visuals. Stick to a sleek design devoid of flash and other slow-loading features. Let your website feature graceful modules, fast web pages, rich and crisp text, and consistency.
Enrich your website with visual elements ranging from energetic photos, videos, graphics, infographics, and so on. Lend a personal touch to your website by including visuals of your products, team, ambiance, rather than stock images.
 

Search engine-optimized
The main objective of placing your business on the web is to stay discoverable by your target customers. And if that does not happen, your digital presence can go wasted. Therefore, it's crucial to optimize the key pages of your website so that they show up when prospective customers use search engines to find their needed services.
Resort to powerful B2B SEO techniques to bring your customers to you instead of you going after them. As the searching style of B2B and B2C customers differ, the SEO procedures used in these websites will be different. Thanks to the elongated sales cycle, B2B websites should explore different SEO avenues.
Get in touch with a professional website development company and SEO experts, who create B2B website designs that capture the users' attention on the first page they visit with the ultimate purpose of capturing leads and converting them into B2B sales. An engaging site with easy-to-navigate elements will be a great help in closing deals and building your brand.
 

Prominent display of contact information
You have successfully seized the attention span of the target audience with an appealing and intuitive B2B website. Now, your prospective customers are excited to get in touch with you. Alas! They need to stroll around your website looking for proper contact details. There is no better way to lose your leads than this. Lack of visible contact info is cited to be a prime reason for visitors to vacate websites.
There should be prominent contact info on the pages your visitors land. Give a well-thought-out design plan for your contact info page. Keep the below things in mind to create a constructive relationship with potential customers.
Make the contact page easy to find

Offer a short and crisp contact form

Visitors should have the option to contact you in all possible ways: email, phone calls, social media accounts, messengers, etc.
 

Exhibit what stage of the sales funnel your users are at
Great B2B website designs will clearly demonstrate to its visitors what stage of the sales funnel they are at. This will prevent your targets from getting tangled in your web pages. They should know what's going on and let them know where they actually are. 
Take note of the following elements to ensure a better user experience (UX) for your prospective customers.  
Progress bars

show website visitors how close they are to finishing a set of tasks by showing the loading progress. This is indeed a great usability feature.

Breadcrumb navigation

lets your visitors easily identify where they are on your website and how they got to your website.

Highlighted menu items

are nothing but underlined or bolded menu options that a user clicks on.

Thank you and confirmation pages

are great tools in authorizing your visitors' actions. It may range from filling out a form or requesting a demo. A Thank You page can create a great emotional connection and a cool way to show your personal gratitude.
Key Takeaways
An effective B2B website design will cater to the needs of prospective clients. It serves a critical role in marketing efforts and is a great tool for generating qualified leads. You need to have a solid understanding of your web visitors' psychographics, mindset and visit intent to evolve a smart B2B website design.
As a design and web development destination, GetMySites caters to both B2C and B2B businesses helping them have a beautiful digital presence. Get in touch with us to solve your business challenges as our experienced professionals craft out the best website design strategy for you.
Related Post