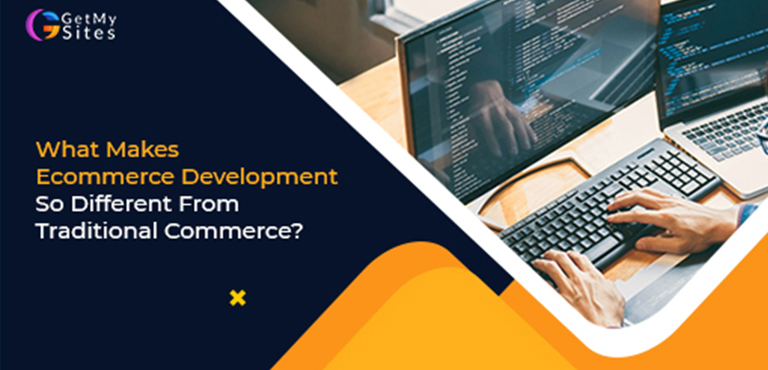 Ever wondered what's the difference between ecommerce development and traditional commerce? And why has the former gained so much traction recently, and what makes it such a big deal? 
Well, let's dig in a little bit and find out!
The growth of ecommerce development has totally changed the way businesses function nowadays. Gone are the days when commercial activities like the exchange of services and goods for money, between different parties, took place in only one way. That is, a customer had to go to a market, go through the variety of products, choose the appropriate items and purchase them by paying the required amount. But now, ecommerce development has changed everything. With the advent of ecommerce, people can now buy products, pay bills, or transfer money in just a few clicks.
What are traditional commerce and ecommerce?
Before getting into the merits, demerits, and the basic difference between ecommerce development and traditional commerce, let's first understand what they are. 
Traditional commerce as opposed to ecommerce development refers to the exchange of services and goods for a certain price in a face-to-face setting. It also includes ancillary services like banking, insurance, transportation, etc that are required for a successful exchange between the seller and the buyer.
Electronic commerce or ecommerce development means the exchange of services and products, information and money, that takes place between customers and businesses through the electronic network, like the internet. While ecommerce websites are the most popular ways of conducting online business, nowadays it has extended to social networks as well.
Ecommerce development is witnessing a massive boom right now – especially in a world significantly affected by the Coronavirus pandemic and the subsequent lockdowns and social distancing. More and more people now prefer to order from the safety and luxury of their homes. This way they avail the door delivery of essential and non-essential products.
So how different is this ecommerce development model of doing business from the traditional commerce method? Let's discuss!
Difference between ecommerce and traditional commerce
 Ecommerce is a completely online digital business, with zero face-to-face interaction between seller and buyer. However traditional commerce is completely conducted face-to-face.

Another major

difference between ecommerce development and traditional commerce

is the way they conduct communication with their customers. In

ecommerce development

, communication happens digitally through chat on the website or email. However, in traditional commerce, customers can simply ask the staff present at a store in case they have any queries.

Marketing in an

ecommerce development company

can be outbound and inbound. Inbound marketing involves offering something of value to the customers to attract them to your brand. In addition to pay per click ads and online banners, it includes videos, infographics, blogs etc.
Whereas, in traditional commerce, marketing is mostly outbound. It takes the form of advertisements in the print media, TV, radio, billboards, hoardings, flyers, pamphlets and so on.
 

Outbound marketing methods mentioned above allow personalized, one to one marketing for

ecommerce development

. However, this is not possible with traditional methods like TV ads and hoardings – they are generic, one-way ads.

 

Ecommerce provides multiple payment options to its customers. However, in traditional commerce, not all organizations offer this facility. Most establishments still only accept cash or credit cards. In contrast, an

ecommerce development company

offers online wallet payments along with other common payment methods.

 

In traditional commerce, the products are delivered to the consumer almost instantly – unless it is a large appliance or furniture where they may have to wait for a couple of days. However, in

ecommerce development

, the customer will always have to wait for some time. It could be some hours, days, or even weeks. It can further get delayed due to bad weather, turbulent situations, etc.

Compared to traditional commerce establishments, ecommerce websites have minimal overheads.

Ecommerce development

needs very few employees and can save on renting showrooms in prime locations, power, décor, utilities and display. They only need warehousing facilities that can be in any low-rent location and a small office. On the other hand, the operational costs and overheads in traditional commerce are very high – large staff, high rents etc.

The above-mentioned reasons enable an

ecommerce development company

to be able to offer major discounts to their customers and still make a profit. This is another major

difference between ecommerce development and traditional commerce

as this not always a feasible option in traditional commerce.

An

ecommerce development company

can provide a wide variety and range of products. More often than not, online stores do drop shipping wherein they place a direct order with the manufacturer or the wholesaler who ships the product to the end-user. This will further reduce the overall cost for the online seller.
This would mean that the online retailer does not need to maintain extra warehousing space for ecommerce development. However, in traditional commerce, the variety and range of products offered will depend on the space available in the store.
 

A brick-and-mortar store service has the limitation of a geographical area. They can serve customers only within their immediate geolocation or neighbourhood. However, with online stores, a seller can serve users across the globe.

Ecommerce development has a global reach

and can help a seller conquer new markets easily.

Usually, in traditional commerce, the transactions are possible only during the working hours – which is usually between 9 am to 6 pm and that too on working days. However, in

ecommerce development

, the transactions can be made at any time of the day.

 In traditional commerce, business generally happens between a customer and a business, or from one business to another. These are known as B2B commerce. However, in

ecommerce development

, the possibilities are endless. It could be B2B, B2C, C2C (eBay, OLX etc) or even Intra-B Commerce, which is the exchange of goods within an organization through online media.

The ultimate

difference between ecommerce development and traditional commerce

is of course the fact that ecommerce offers a great deal of convenience to the customers as they do not have to drive through heavy traffic, wait in queues and rush among crowds. They can just browse through the options and order what they wish from the convenience of their homes.
Wrapping Up
We hope that from the above mentioned points it is quite clear that both the methods have their disadvantages and advantages. Ecommerce development is almost like traditional commerce – except instead of entering a brick-and-mortar store, you enter an e-world of shopping. Also, you choose a category, specifications and you can easily get the desired results.
Are you ready to step into the world of ecommerce development? Are you looking for a reputed and reliable ecommerce website development company?  If your answer is yes then Get My Sites is the right choice for you. With a rich experience in delivering aesthetic and engaging ecommerce websites for businesses all over the world, we are the ideal option for your growing business.
We offer affordable ecommerce development and our team comes with in-depth knowledge in various ecommerce platforms and technologies. We work with 100% transparency and confidentiality to bring you top-notch digital solutions that help you achieve exceptional growth. Contact us today to discuss your ecommerce requirements.
Related Post